Road to California sent out a note about the cruise coming up this fall! Come sail along with us!! We are going to have so much fun!!! Below is all their info from the email... I'm just passing it along... CRUISE!
Join the
Road

to

California

New England Quilt

Cruise

, Round Trip from Boston.
September 27-October 4, 2015

Our ship is selling out - register soon or risk disappointment.
With just 7 months to go we are really looking forward to the
Road
to
California
Quilting
Cruise
in New England next fall. We are sailing on Royal Caribbean's Brilliance of the Seas from Boston and will go as far as north as St. John, Nova Scotia on our 7 day adventure. We've planned lots of fun activities and events, custom quilter shore tours, and 10 outstanding workshops offered by our 5 incredible teachers.
One of the teachers on our
cruise
is award winning quilter, best selling author and designer, Victoria Findlay Wolfe. Highly regarded throughout the quilting community, her work is improvisational piecing reinvented. As you "play" in her classes, you'll sharpen your design skills and learn about combining colors and prints in new and exciting ways. Get ready to have some incredible fun. As you play with your fabric while you will see an incredible quilt design emerge using Victoria's techniques as we sail the coastal waters of New England and Canada.
Victoria is teaching the following classes on our
cruise
:
15 MINUTES OF PLAY: Improvisationally explore new ways to use your SCRAPS, 15 minutes at a time! Learn techniques in playing in your scraps to make your own beautiful designed quilts. Sharpen your design skills, learn about combining colors and prints in new ways, push it further by using templates then watch your own unique quilt design emerge. Discover just how distinctive classic quilt blocks can be, when they are constructed with more spunk and spontaneity! Build confidence in color, quilting techniques, and design all through PLAY!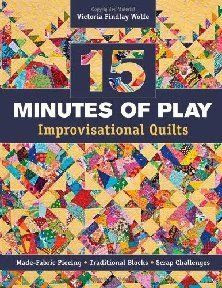 Look through some of the projects made through "play" in Victoria's book, 15 Minutes of Play.
AND
DOUBLE WEDDING RING:
Known as Queen of the Double Wedding Ring, Victoria has developed several new and exciting techniques to make this traditional quilt pattern sing with modern possibilities. In her
cruise
class, Victoria will teach you how to make incredible rings using various methods with dramatic results.

For examples of Victoria's various Double Wedding Ring designs, take a peek through her upcoming book here.
Please see our website for the
cruise
,
click here
for more information about booking and classes. We hope to see you onboard the Brilliance of the Seas next September.